Anchor your Job right!
Websites are not just for established companies and businesses but are also for individuals who wish to venture out and broadcast their talents and bag lucrative opportunities.
Having your portfolio website puts you above the bar of your competitors as it increases your visibility and shows your proficiency and skill set in an organized manner that'd attract the eyes of the viewer. And it is a well known fact that companies will pick you over others if you are searchable and visible on search engines.
And we here at MaxInfo.Tech understand your need to stand out and our web developers code your websites keeping in mind your customized preferences. Our websites are developed to bring out the best in you and render you the best results.
Having a portfolio website will help you win laurels in your academic as well as professional front.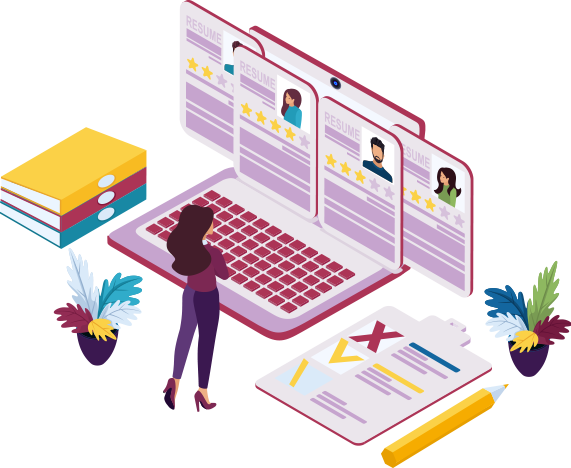 Benefits of Portfolio website

Professional
Having an online portfolio gives you a professional look that'd make an investor/ interviewer give you brownie points for being creative and organized. It gives you the benefits of controlling the flow of presenting your accomplishments so far.

Visibility
When your interviewer looks you up on Google, the first thing that'd pop up would be your portfolio website that'd give you an air of finesse. And featuring your work samples for review would help you bag the best first impression.

Flexible
A portfolio website will give you a higher flexibility level with your creativity as compared to the traditional resume. You can easily alter content online, add videos and images to support your work and can also display your constant learning process and growth.

Testimonials
Client testimonials is the most important feature of portfolio websites. This section helps the viewer discern your abilities through your previous clientele and also helps him visualize his working relationship and business success with you in the given future.

Organized
An online portfolio keeps your work organized so that the viewer can go through selective categories of your previous works, client testimonials, and also future aspirations to understand you as an individual and can review your skills easily.

Credibility
Having a website gives more credibility to an individual as they get recognition on search engines, can efficiently showcase their work and sets them apart from the homogeneous crowd that catches the eye of the potential client and authenticates them.
Why Choose Us?
We here at MaxInfo.Tech are the new generation digital marketing and web development company in India providing high-end content
and exceptional services to our clientele. We believe in expanding horizons, disrupting industries, creating
unforgettable experiences, and entrusting concrete results.
We code the website for you keeping in mind your best interest. We make sure your portfolio website promulgates your skills
and attracts potential investors and companies that'll offer you lucrative opportunities.
We strive to make your portfolio look trendy and engaging. Revamp your old resume with a website today!

Engaging
Our website helps keep your viewers hooked.

Organized
We help you organize information better than DIY cupboards.

Attractive
We help you attract an audience better than magnets.

Credibility
Our websites certifies you with an image of authenticity

Relevant
Our websites don't beat around the bush but are straightforward

Professional
We help you hold your professional upfront better than formal wear
How We Do It

Identifying needs
Determining your business'
requirements

Conceptualizing plans
Brainstorming ideas and
strategizing the process

Engineering solutions
Implementing plans to achieve
beyond the benchmark

Delivering success
Optimizing process to render
valors to your business
"I can't change the direction of the wind, but I can adjust my sails to always reach my destination."
– Jimmy Dean